Basics of CRM for Architects and Engineers
Properly managing your customers and opportunities can make or break your success. This is where CRM comes in.
As an architecture firm, customers and opportunities are always top of mind for your teams. With projects being the lifeblood of your firm, properly managing your customers and opportunities can make or break your success.
This is where CRM comes in.
Customer Relationship Management (CRM) is simply the practice of managing how you interact with both current and potential customers. In this blog, we will review the importance of CRM for architecture firms, how a project-based CRM solution can automate the process, and what architects should look for when choosing a CRM solution.
Why is CRM software so important for architects and engineers?
Architecture firms are in the business of projects. Because they sell projects and services rather than products, documenting client names, contacts, contact information, and history is vital.
Firms have long relied on repeat work from customers with whom they've had long-standing relationships. As the competitive landscape has changed slightly, this is no longer the case. Firms can't always count on the buddy system to guarantee work; they have to compete, which is where a CRM keeps them on their relational A-game.
To do this successfully requires streamlined processes and clarity into all opportunities and customers. Some architecture firms are trying to achieve this level of insight with an endless array of emails, spreadsheets, Rolodex cards, and attachments that require constant consolidation and reconciliation.
The more people keep separate siloes of data, the greater chance there is of crucial opportunity and customer data being incorrect or missing.
Luckily, there's a better way.
The benefits of a project-based CRM solution
While the beloved Rolodex served the CRM needs of businesses before the days of software, modern architecture firms require modern solutions.
Project-based CRM for architects and engineers provides a single source of truth for contact information, lead, and opportunity pipeline management, and streamlines marketing efforts, such as:
Accessing historical project records for proposals
Organizing email campaigns to clients, partners, and prospects.
Tracking client interactions and project milestones for enhanced communications.
Monitoring resource allocation and availability across projects.
Having a CRM that's specifically built for projects is crucial because every project is unique. The details of the project, the team involved in executing the project, the relationships with Engineering and Construction firms—all of this and more needs to be tracked and it's different with every project.
A project-based CRM can do this.
Let's dive a little deeper into the main benefits of CRM for architecture firms and how it delivers several key benefits.
See customer & pipeline information in context of projects
Architecture firms are project-based, and their CRM solution should be, too.
A project-based CRM solution for architecture allows firms to place the customer journey in the context of a project, tracking it at every phase of the lifecycle. Projects don't happen in a vacuum. Before starting a new project, project teams must assess the required resources, the expected schedule, and where it fits into the existing list of projects.
CRM software allows Project Managers and project teams to see the bird's eye view of all current and future commitments and drill down into any opportunity as needed, allowing them to adjust their strategy.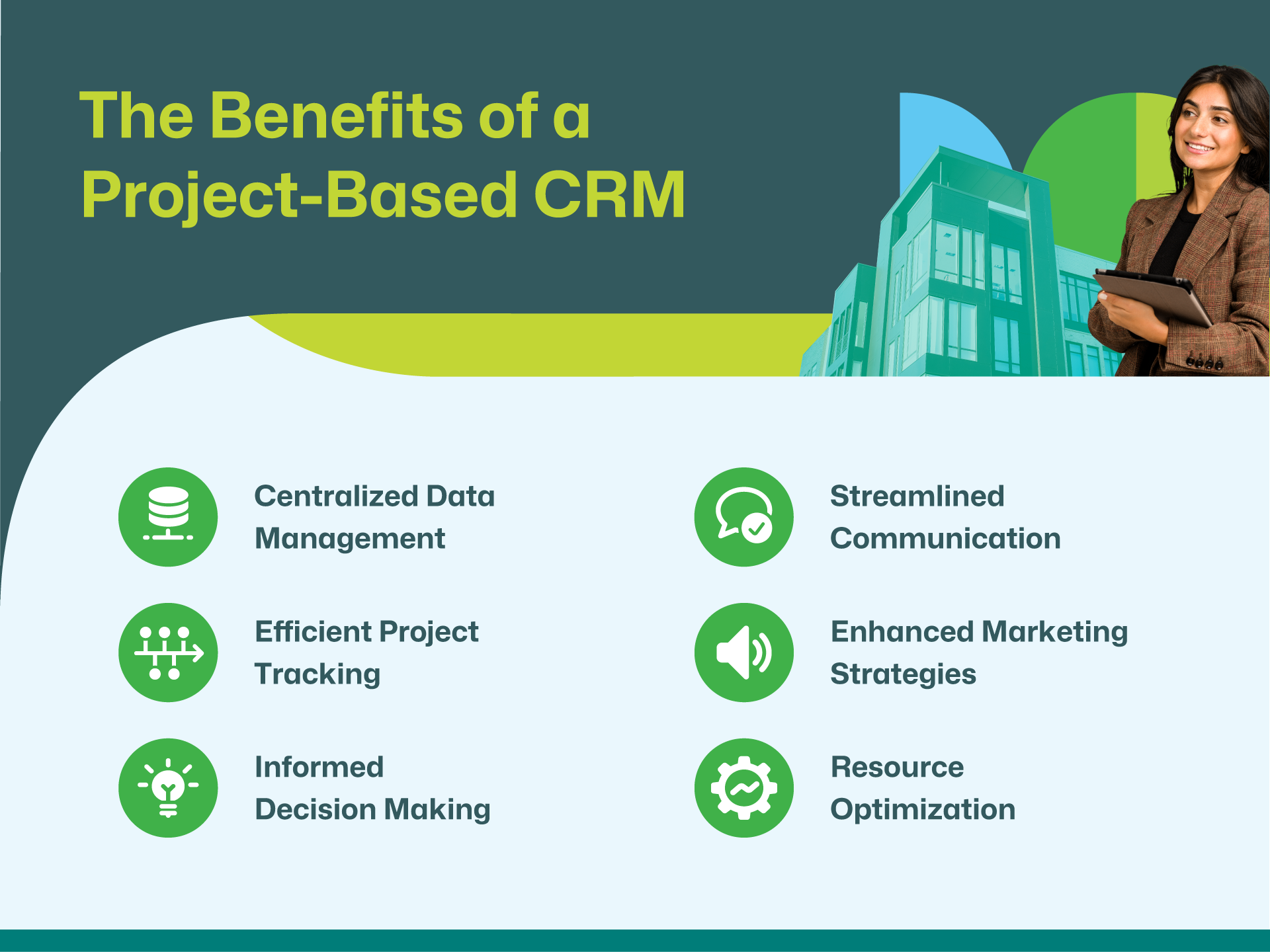 Gain greater insight and decision-making capabilities
A CRM for architecture houses accounts, contacts, telephone numbers, email addresses, and notes—the crucial data some firms are managing across multiple spreadsheets and bookmarked email threads—in one single solution for anyone to access.
In just a few clicks, your business development and customer teams have a comprehensive view of contact history and information. No more pulling a contact name from an outdated spreadsheet only to later find that the contact left the company years ago. No more guessing the last time someone followed up with the prospect and what was discussed.
Having real-time data places much-needed information at executives' fingertips. The ability to know exactly where each deal stands and see the forecasted opportunities coming down the pipe is invaluable.
Without this data, leaders are left to make important strategic decisions without the full picture. It's much easier to steer the business into the future with a clear picture of the pipeline.
Understand customer needs and improve relationships
Project-based CRM goes beyond enabling better decision-making and increasing profit—though that is certainly one of the biggest benefits. A CRM solution can pave the way for teams to improve their relationships with the customers and prospects they manage. It's in the name, after all.
Having the full set of meeting notes and emails for an account available anytime and anywhere makes it easier for Customer Success Managers to understand the full account history. They can see how the customer's needs have shifted over time and make sure those needs are continuously being met—or course correct if they're not.
Architects know too well that truly understanding clients can mean the difference between retention or churn. Customer teams can compare accounts, notice that the pain points expressed by one customer are consistent across multiple customers, and introduce new opportunities to executives and business developers.
What to look for in a CRM for architecture and engineering firms
Architecture firms are complex and unique, so finding a CRM tailored for them is crucial. So, what should architects be looking for in a solution?
A single source of truth
Managing opportunities and existing contacts touches every aspect of the firm, and vice versa. The CRM solution should seamlessly integrate marketing, project management, business development, and financial data into one location.
The solution should meet project managers and executives where they are and be accessible from the devices—and tools like Outlook—that they already know and love. At any moment, executives should be able to keep a pulse on the entire organization and leverage the information they find to make smarter strategic decisions.
Configurability and scalability
Firms must be able to trust that the CRM solution they choose will serve their unique business needs through crucial growth periods and beyond. The CRM system should be flexible and configurable enough for teams to have everything they need in the provided built-in tools.
The firm should trust that the solution will grow with them instead of needing to migrate to and learn new systems each they make changes to their business model.
Ideally, the CRM should also be able to integrate with financial solutions and other software. An integration enables project-specific marketing and financial data to quickly and securely sync and provide everything in one single source of truth.
Proposal management
Ask any business development manager what one of their key priorities is, and they'll likely say proposal creation and management. If proposals are a key part of a business, they must be a key part of the CRM tool the business uses.
The CRM solution should provide the accurate data needed to consistently accelerate the proposal process, improve proposal data accuracy, and accurately track all certifications to include in proposals.
Security
It goes without saying just how crucial and sensitive prospect, customer, revenue, and pipeline information is. Customer contact information and profit figures that are kept in simple spreadsheets—or worse, scrawled on sticky notes—are at greater risk of being accidentally deleted or accessed by hackers who managed to guess a computer password.
The CRM solution a firm chooses must have security top of mind. The best CRM solutions keep data secure and backed up. Administrators can set permissions and only allow the right people to access sensitive information.
Responsive support
Firms shouldn't just be handed software and sent on their way—they need a support team backing the software. The CRM vendor should be a dedicated partner in the firm's success, not someone who will restrict the value the firm gets out of the solution.
The vendor should have several support options to meet the unique needs of the business. The best CRM for architecture firms in the world can't provide value if it's not supported.
Make CRM a strategic asset for your AEC firm
In the competitive world of architecture and engineering, a CRM system is more than just a tool — it's a strategic asset. It transforms customer relationship management, enhances project insights, and guides informed decision-making. A well-implemented CRM for architecture firms is pivotal for aligning your team, optimizing operations, and elevating your firm's success.
For a deeper understanding of how a project-based CRM solution can advance your firm, explore A Complete Guide to Projects for Architecture & Engineering Firms. This guide offers tailored insights and strategies for AEC firms. Embrace a CRM solution that meets industry demands and sets new success benchmarks.
Download the guide and start shaping a more efficient and strategic future for your firm today.