Leveraging Good Data for Growth
In general, GovCon firms either grow or shrink – no one stands still.
Looking for an exit in a few years? Growth is essential.
Looking for a capital infusion? Growth is essential.
Shopping for a better deal on a line of credit? – Growth is essential.
Buyers, investors, and lenders are all becoming more sophisticated and they are always risk averse. They want to see that you can leverage the data from your systems to produce information and use that information to fuel growth. They also want to see that you have tools and processes that are capable and scalable. And that includes keeping the cost of those processes as low as practical so you can win the contracts you pursue and use all the information at your disposal to pick the right targets to pursue.
Bottom line: Growth is essential, and good data will get you there.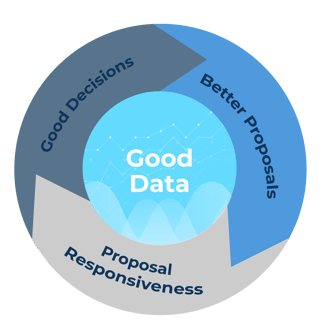 Growth Driver #1: Good Decisions
Whether it's a decision on where to make the next training or BD investment, which of three or four or five opportunities to pursue, or even whether to continue chasing a procurement when conditions have changed, fact-based decision making is the only path to success.
Your ERP system should be able to give you data on cost of past performance for the same or similar efforts. It should be able to tell you which customers are profitable (and which are not). In fact, it should be able to give you a broad range of Key Performance Indicators (KPIs) on everything from your current projects' profitability to the trend of your indirect rates. These KPIs should be some of the factors you consider when deciding where to go next. Your win rate on previous proposal efforts should also be available – by customer, by line of business, or even by your internal business units.
If not, why not?
What you should know:
Approximately 60% of firms use data analytics to boost process efficiency
57% of businesses leverage analytics to drive strategy
Just over 50% of successful businesses use analytics to monitor and improve financial performance (Source: Business Analytics. Harvard Business School. 2019.)
Data analytics can help GovCons target opportunities more accurately
Analytics can also surface hidden costs and keep the indirect rates in the "win territory"
How you can succeed:
Make sure your systems can calculate your KPIs continuously and in real time so that information is available on demand when you need it and not "two weeks after the close" or "once a quarter."
Look for a tool that gives your users an experience with reports and dashboards that they can manage themselves
Standardize your KPIs across teams and departments so everyone is looking at the same information
Train your teams on reading and interpreting the KPIs to make the information actionable
Whether it's cost control, indirect rate trends, portfolio management or pipeline tracking, make sure the metrics you track actually matter. A few KPIs that deliver clear insights will be better than dozens that users have to dig through.
Growth Driver #2: Better Proposals
Proposal writing is always a challenge, always important, and increasingly difficult to manage. The RFP response is the difference between getting an award or not and many GovCon firms lack the processes required to consistently write a winning proposal. It's not just the technical volume. Showcasing your subject matter expertise and experience is just the start. In today's environment, you also have to price to win and that means knowing how your rates will be impacted by a win, what staff resources will be available to perform the work, and how a win might affect other ongoing work.
Guessing at any of these factors, even if it is an informed guess, may not be a winning approach. Worse, even if your proposal is selected for award, a wrong guess could make your hard-won contract a losing proposition.
It all comes back to what you know and whether you can leverage that information to help you win.
What you should know:
77% of firms say individual awards make up a significant portion of their revenue
Nearly 70% of companies win less than half the contracts they bid on
66% of GovCons still use Excel to estimate their costs, even though they realize a need for better technology
Over 20% of contractors had a negative growth rate in 2020
Source: Unanet GAUGE Report 2020.
How you can succeed:
Understand the scope of the project and use that understanding to build a work breakdown structure (WBS) for it
Estimate the resources required to perform the work and make sure the timing of resource availability works.
If all the people with the right skill sets aren't available when and where you need them, develop a contingency plan for their acquisition
Pay special attention to your estimates of personnel costs for staff not currently available. You can use To Be Determined (TBD) placeholders in your proposal (assuming it's not for key personnel) but be sure the cost rate for those resources is realistic.
There should be a lot of cost information available from your ERP system on similar past projects. Use it to benchmark your cost volume. It may tell you that the work can be done for less than you think. It may tell you that your proposal is consistent with prior projects, but make sure conditions haven't changed. If that kind of information isn't available, ask yourself why not.
Growth Driver #3: Proposal Responsiveness
Proposals often aren't "one and done." No one would dispute that the initial proposal submission should be absolutely the best you can do. Sometimes there's no second chance, especially if the evaluation is Low Price Technically Acceptable (LPTA). But just as often, there will be amendments to the solicitation requiring a revised proposal. Sometimes it's just a matter of clarifications or a change in the terms and conditions. Sometimes there is a substantive change in the government's requirements. It's not as common as it once was, but a round of Best and Final Offers (BAFOs) still occurs and the larger the procurement, the more likely that may be. It seems sometimes that a BAFO is nothing more than a mechanism to drive the price down – especially if there are multiple rounds of BAFOs on the same procurement. (Yes, that does happen.)
The point is, refining the estimate, confirming availability of resources, or looking for alternative resources that might be more cost effective are all activities that should continue even after the proposal is in the hand of the Contracting Officer. You wouldn't do that on a 90-day delivery order, especially if it's a follow-on. But on a major procurement for a new customer or a must-win recompete? Definitely.
And when it's time to reprice, restaff or update the technical volume, the one thing you can count on is that the time allowed will be about half what it should be. Be prepared. And part of that is using tools that streamline that process. Manually updating proposals for changes, whether it's a minor time shift or a major change in technical approach, can be time-consuming and error prone.
What you should know:
LPTA made up 28% of proposals for the respondents versus Best Value
Over 50% of firms say their BD teams are under-resourced
Companies with the highest win rates recognize the need for BD reporting tools
Mid-Sized Businesses are using GWACs, MACs and similar vehicles for more than 32.5% of their annual revenue
Source: Unanet GAUGE Report 2020.
How you can succeed:
Research matters: Know the customer before the solicitation is on the street – at least enough to know if your capabilities and qualifications are a fit for what they need. If it looks like your services are a stretch, don't spin your wheels and waste resources chasing a low probability win. Standardize the criteria for your Probability of Win (Pwin) assessments and make those part of your "go/no go" decisions at every step. And, yes, reassess at every step. Don't hesitate to cut your losses if conditions change.
Research matters: Don't rely on the solicitation to tell you everything you should know about the customers' requirements. Every SOW has an unwritten subtext. The more you know about the customers' real, day-to-day problems, the better equipped you will be to read between the lines of that solicitation.
Research matters: Talk to the customers even after the proposal is in – just be careful not to violate the communication protocols of the procurement. When a solicitation amendment comes out that changes everything, well prepared offerors already know why it's happening and how to react.
Make sure your tools are up to the job. Managing three, four, or even five simultaneous active proposals is possible even with a manual process. What about 10 or 20? Whether it's for estimating and pricing or technical volume management, put the infrastructure in place before the process becomes a problem.
Want to learn more about GovCon strategies for success? Download the 2021 GovCon Success Guide for tips and best practices that will drive your firm to increased profitability.