Defining CRM
In construction, CRM stands for client relationship management. It refers to cloud-based software that places key relationship, communication, lead and opportunity data at users' fingertips.
The construction industry revolves around relationships. Clients often award expensive, high-profile projects based on how well they know and trust a firm. Each point of communication with a client will strengthen or weaken that trust. That's why it's crucial for client-facing staff to know the full picture of their firm's relationship with a client, including:
Who the client is.
Who works for the client.
What projects they've done with the client in the past.
What projects they've done that resemble the one they're attempting to win.
What opportunities they have chased with the client, and how successful they have been (client hit-rate).
How often their firm communicates with the client, and what they've said.
And much more.
Unfortunately, many construction firms rely on tools like Outlook and Excel to track this information, resulting in employees working from multiple, disparate documents ... none of which provide an accurate, up-to-date picture of the firm's current relationships.
Without a clear understanding of previous conversations, employees often repeat questions or make contradictory promises, which can damage a firm's reputation with clients and partners. A construction-centric CRM can eliminate this issue by making accurate, up-to-date, and actionable relationships easily accessible.
(Learn how Unanet CRM by Cosential — the CRM and Proposal Automation solution purpose-built for construction — can benefit your firm.)
CRMs offer measurable results that tools like Excel and Outlook simply can't achieve. According to Software Advice:
74 percent of CRM users said their system offered improved access to customer data.
47 percent said it had a significant impact on customer retention.
47 percent said it had an impact on customer satisfaction.
The kicker? This study analyzed generic CRMs designed for companies that sell products. Construction firms, which sell experience by demonstrating how the skills and knowledge used in previous projects can benefit future clients, have different needs. Firms that invest in a solution purpose-built for their unique challenges and business development processes can expect greater results.
Why construction-centric CRM matters
In most industries, sales & business development is a two-stage process. In the first stage, the organization identifies a lead. In the second stage, the lead becomes an opportunity. The sales rep then aims to close the deal before delivering a product.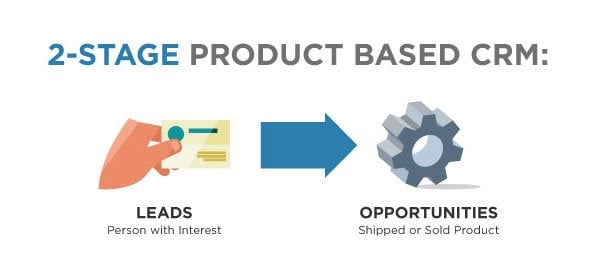 But construction firms sell their experience and ultimately projects. For general contractors, this is a three-stage process. Leads or rumors become opportunities, which require proposals, bids or submittals before they can become projects. Finally, the firm uses that project data to win more projects.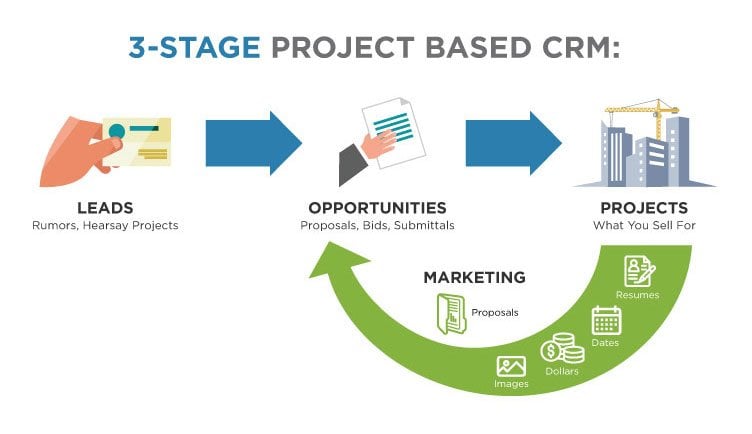 For sub-contractors, the process is a bit different. Firms form relationships that lead to bids that eventually become projects. The firm then uses project data to win more bid invites.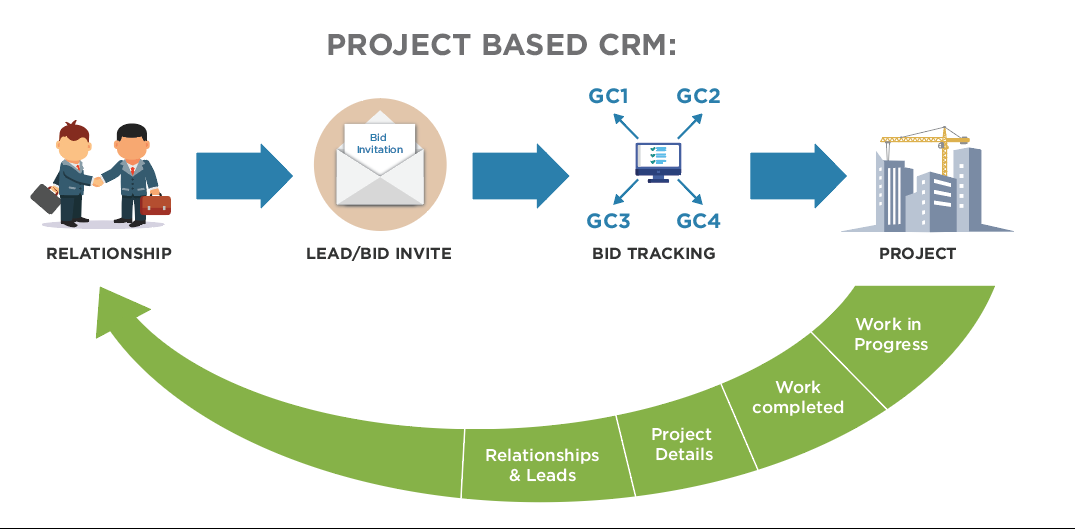 With such a stark difference in the way construction firms and product-based companies win deals, it's clear that construction firms need a CRM purpose-built to serve their needs.
But what capabilities are most important for a construction-centric CRM?
7 things to look for when purchasing a CRM in construction:
1. Network mapping
Construction Executive warns that, when it comes to awarding a project, "multiple people can impact a decision." That's why construction firms must develop relationships "with everyone from top to bottom. A general rule of thumb is that every person at the prospect's home or business is important, from the administrative staff to the president, as well as spouse and other family members."
That's a lot to keep up with.
And your firm and the prospect aren't the only organizations involved in the deal. You also need to keep partners in mind — especially when it comes to joint ventures.
Juggling all these moving parts can get very complicated, very fast.
To keep up with everyone involved, your CRM should allow you to map out and document your entire network, including:
Clients
Prospects
Personnel
Owners
Owner's reps
Subconsultants
Contractors
Subcontractors
Tracking down to the individual level is key. For example, imagine an employee leaves your firm. If they end up working for an architecture firm you work with or another construction firm you partner with in joint ventures, will your CRM recognize him or her as single person?
For most CRMs, the answer is no. Instead you would be forced to create a new record for your previous employee to associate with their new firm and mark the original record inactive. But with a construction-centric CRM, you can simply associate your former employee's contact record with their new firm and not lose any rich details or history that is vital to your network.
Put simply: All CRMs can handle contact management, but construction firms need a solution that can handle their unique use cases.
In addition to managing the contacts themselves, it's also important to document communications between your firm and your network to empower greater internal collaboration.
"Our marketing and business development often teamed up with project managers to get new projects," said Lisa Pitts, senior implementation specialist at Cosential, referring to her time as a marketer and business developer in construction firms like Satterfield & Pontikes Construction and Helps Phelps Construction Co. "Knowing who is talking to whom and when is key to a successful procurement."
2. Central database
Marketers and business developers in construction often live in several spreadsheets, wondering whether they've missed out on a great opportunity because of a forgotten lead — as Travis Wilson, director of marketing at Layton Construction, knows all too well.
"My team was struggling to collect information, and then, when they finally collected what they needed, it didn't always make it into a central repository," he explained. "We were using this constantly growing spreadsheet to try and keep track of all the data we had, but over time, it just became overwhelming. We were constantly saying to ourselves, 'There's got to be a better way."
Now that he uses Unanet CRM, he no longer has this problem. In fact, the information he and his team need is so easy to access, he uses the CRM to quickly onboard new employees.
"We used to struggle with a few people holding key institutional knowledge in their heads. I've been here for 13 years, and I have a few team members who are long-term employees. We know a lot about our projects, but as we grow and bring in new people, they don't have the historical knowledge we do," Travis said. "With Unanet, they can get a clear idea of the history behind our projects. It definitely gets them up to speed quicker and makes them less reliant on our veteran employees."
3. Industry-specific integrations
Integrations are incredibly important when it comes to CRMs, but many vendors don't handle them well.
In fact, 49 percent of CRM users said integrating with other systems is a challenge. And once again, this figure is based on generic CRMs and users from all industries. That means your chances of successfully integrating a generic CRM with construction-specific systems is slim. (Think financial systems, like Vista by Viewpoint, or project management systems, like Procore Project Management.)
But a CRM created for construction will provide integrations with these services and more. That eliminates duplicate data entry and addresses any data integrity concerns.
4. Proposal and resume automation
One of the reasons integrations are so important is they put project data at marketers' fingertips, allowing them to generate proposals and resumes without the typical headache … a change they would welcome with open arms.
"The thing about building proposals is it always comes down to the last minute," Lisa said. "It's really high pressure, and everybody gets frantic. Anything that saves time — that keeps you from having to dig or chase someone down for information — is huge."
By pulling key project and resume data from your financial system or enterprise resource planning (ERP) software into your CRM, marketers can use the time they save hunting down and updating this information to better tailor proposals to the client's key issues, leading to a greater success rate.
"Project managers can get irritated at marketers who ask the same question 20 times because they don't know where they put their response or they want to double check that it's right," Lisa explained. "Once marketers have a single source of truth for the information, that problem is solved."
And knowing the project data is accurate because the CRM pulls it from the system of record is invaluable.
"Having that accurate data feeding from one source is key," Lisa said. "Any incorrect information will bring your score down and may prevent you from getting shortlisted or winning the job."
5. Hit rate-improving analytics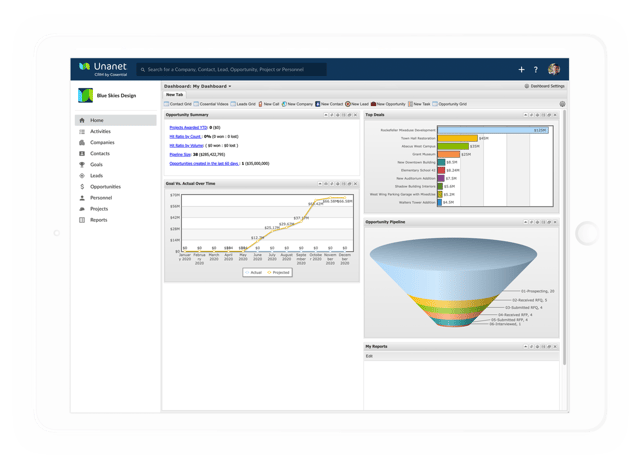 In 2015, the Southern Illinois University Master of Marketing Research program partnered with SMPS to uncover which metrics matter most to success in architecture, engineering and construction. One of the most important, as you might expect, is the hit rate.
By understanding where your most profitable projects come from, you can create a more effective pursuit strategy that increases your hit rate. According to PSMJ, "In the past, the process was fraught with hunches and incomplete data. At present and in the future, there is no need for hunches or lack of data."
Thanks to construction-focused CRMs, they're right.
To understand where your firm has the biggest opportunities to increase revenue, a CRM should allow you to analyze:
The locations where you usually win work. This will help you develop a better understanding of your ideal customers and target regions where your firm thrives.
Which relationships help you win more work. Measure which partnerships lead to the most wins. Maybe when you partner with organization A and compete against firm B, you win 90 percent of the time, but when you partner with organization C and compete against firm D, you lose 85 percent of the time. This information can help you determine whether pursuing an opportunity is likely to lead to a new project or become a wasted investment.
Which lead sources most often lead to projects. You may already have some idea of which leads are most effective. For example, maybe you know conference leads perform well. But do you know if that's true for all conferences or just some? Pinpoint your best lead sources at a granular level to decide which leads are worth pursuing.
Which types of projects are most profitable. This analysis isn't related to hit rate, but it's crucial to understand. You may have certain project types or market sectors that frequently lead to wins, but if they're not profitable, they're not worth pursuing.
6. Go/No Go functionality
A construction-centric CRM will provide tons of data to help you create an effective Go/No Go process, allowing your team to invest in high-probability opportunities and avoid wasting resources … a goal many in AEC overlook.
According to Scott D. Butcher, FSMPS, CPSM, vice president and CMO of JDB Engineering, too many firms put marketers "on wild goose chases because of poor go/no-go decision-making for clients and proposals."
Fortunately, a construction-centric CRM will simplify this process, providing the data needed to answer key questions, such as:
Is this a high-profile project?
Does the project align with our core values?
Do we have an existing, positive relationship with the owner?
Is this owner collaborative and appreciative of our values?
Will this result in an enduring relationship?
Do we have the right team available for this project?
(Want more help with your Go/No Go decision? Use this template from SMPS.)
7. Mobile functionality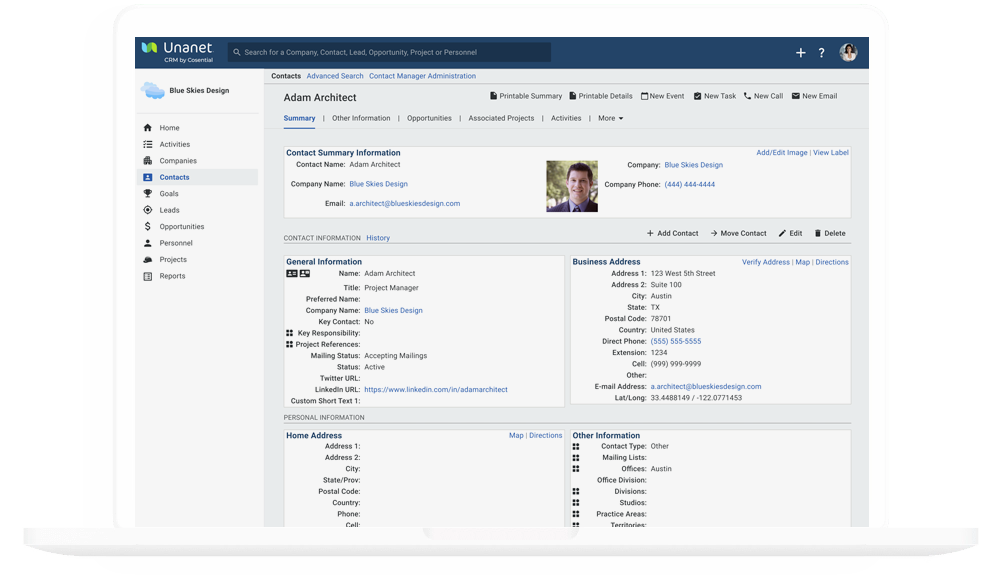 81 percent of CRM users said they access their CRM using multiple types of devices. Even if you think you won't need mobile access, it's good to have the option.
Your best sales people are not behind a desk. Mobile accessibility allows your business developers and seller-doers to capture key lead information while on the go. And that's crucial for ensuring important information isn't forgotten.
Your CRM should also allow you to do the following on your mobile device:
Automatically log phone calls.
Enter notes using voice to text.
List and search your projects.
Organize, search and filter contacts, companies, projects, call and opportunities.
Receive enabled push notifications.
Access driving directions to any address in your system.
Review your upcoming and past due call logs.
The #1 CRM in Construction
Unanet CRM by Cosential empowers firms to:
Improve their marketing and business development processes and communication.
Access key project, personnel and client information anywhere, anytime.
Win projects based on their existing relationships and proven experience
Ditch frustrating and time-consuming spreadsheets.
Leverage their entire network to win more projects.
Integrate with crucial industry-specific solutions.
Quickly generate bids, resumes and proposals.
Analyze opportunities to improve their hit rate.
Develop a strategic Go/No Go process.
Want to find out if Unanet CRM is right for your firm? See it in action.